Today we properly set off on our road trip around New Zealand South Island. The target was Waitomo famous for its Glowworm Caves and it was to be quite a drive of around 3 hours.
Glowworms actually don't exist in biological sense. The name is a common term for various groups of insect larvae that glow through bioluminescence. In case of Waitomo (meaning in Maori 'water sinkhole'), the worms are actually maggots but that name wouldn't be particularly appealing to visitors - hence nicely sounding glow worms.
We decided to not simply walk around and watch but actually do what is called a black water rafting - which means exploring a cave in a wetsuit and with a help of an inflatable tube that helps in swimming through some flooded areas. The concept sounded interesting and our time slot was booked for 1 pm. We missed it by 15 minutes but luckily there was another one later on the same day. Since the adventure takes around three hours, it would be difficult to fit it in with a visit to Hobbiton the next day so we were happy the new time slot worked out.
We checked in to a camping ground and an hour later we were driven to Ruakuri Cave. We put on thick wetsuits, rubber boots and helmets with head torches and boarded a small van covered in wet mud inside out. The driver took us to a nearby entrance to the cave - a little hole between the rocks with a narrow path leading to it through the rainforest. It looked rather creepy but with the floating tubes on our arms we went in.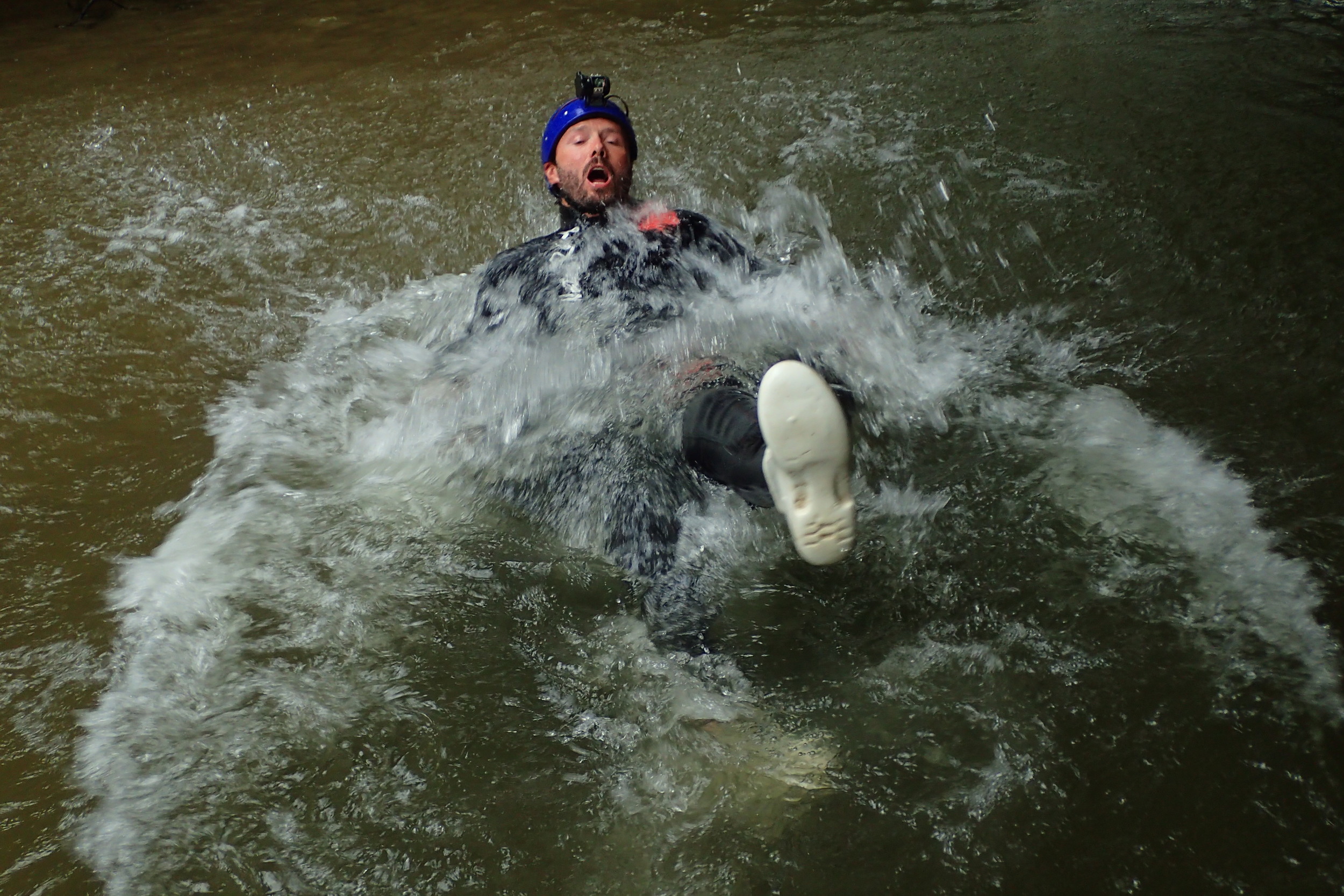 The next two or so hours were an unforgettable experience. We went 65 meters underground through a maze of rock tunnels and cracks, with water flowing constantly alongside us. At some points we had to turn around and jump backward from waterfalls to invisible deeper pools in the darkness minding the sharp rocks all around us. The water was freezing cold despite the wetsuits and our hands soon lost feeling.
The spots where we felt most uneasy were the underground waterfalls with gushing water and hardly any visibility. But always going through them was rewarded with stretches of calm water and floating in our inflatable tubes with glow worms covering the ceiling of the cave above our heads. At some point we spent over 10 minutes just slowly floating through a large cave with the ceiling shinning with blue glow worms and a quiet song coming out of hidden speaker somewhere around us. It was an unbelievable feeling, as if we entered a different world straight from James Cameron's Avatar. That included wetas, spooky spider-like large insects sitting on the walls and at one point landing on the shoulder of one of the guys in front of us.
The experience finished after around 3 hours when cold, wet and excited we saw a large opening at the end of the tunnel that turned into a view of a rainforest with a muddy path leading upwards. The dirty van drove us back and we were treated with hot tomato soup and bagels. We got back to the camper van tired but very happy - it was an experience like we've never had before and was worth all the cold and scratches!