Rotorua disappointed us a bit. In our heads we painted a picture of a nice lakeside town with Maori culture visible on every step. What welcomed us was wide streets with supermarkets, car rentals, garages, motels and all other services on either side.
It felt like we're entering a large city and just crossing it's busy, ugly suburb with all the big warehouse businesses. Even our camping ground (luckily - nice and cosy) was squeezed between a busy road and a tools warehouse. The nearby park had natural hot springs bubbling hot sulphur water but the wind was keeping the eggy smell away from this area.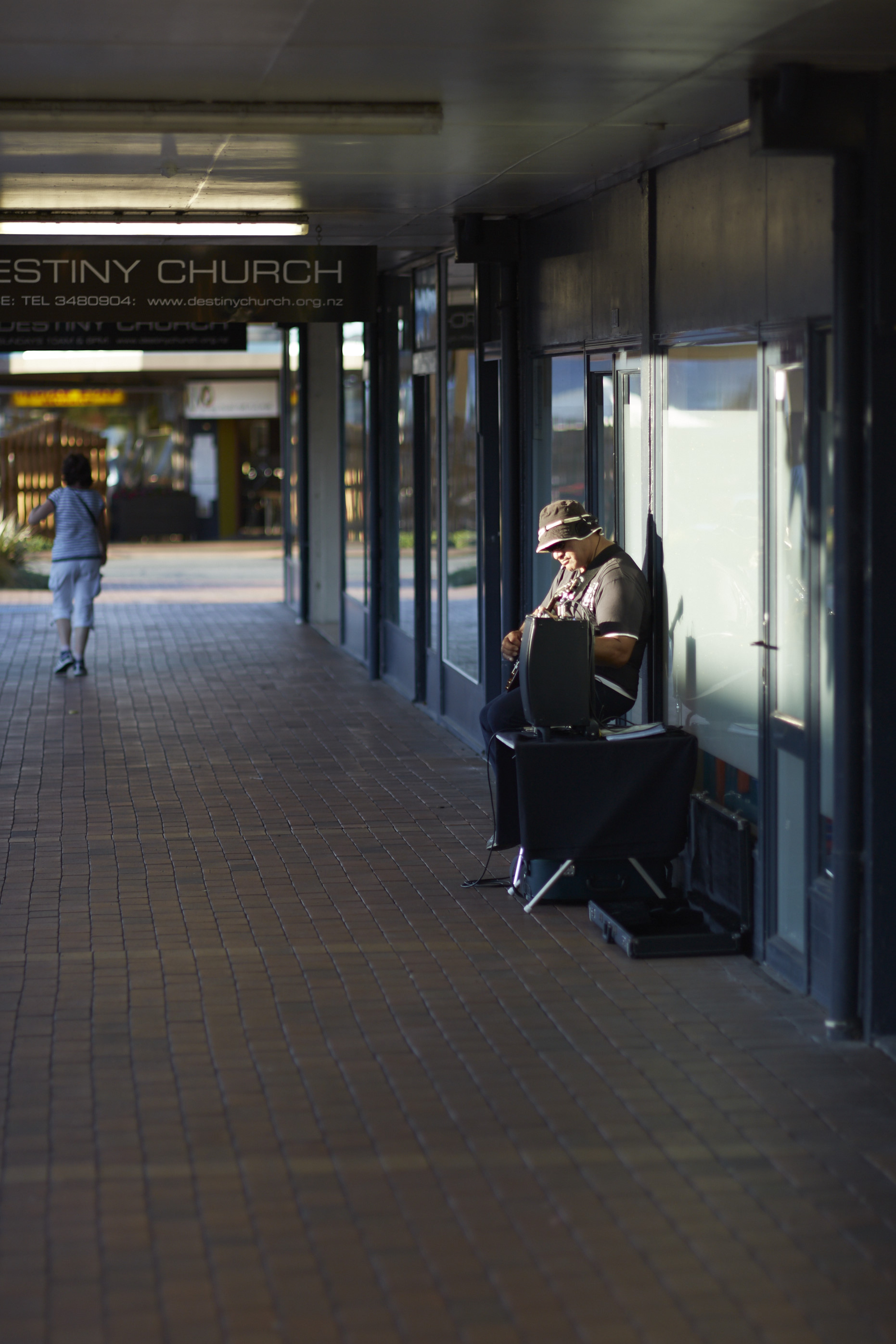 We booked a Maori experience at Te Puia Maori Centre for the evening and we decided to lazy around for half a day for a change and do some camping chores.
Te Puia Maori Centre was a nicely designed complex of small buildings next to large area of hot spring with an impressive geyser that was shooting water up to 30 meters every hour or so. The centre also housed traditional carving school and a small kiwi sanctuary where during the day one could see this unofficial symbol of New Zealand. Because our tour was in the late afternoon, we didn't get to see the kiwis nor the carving school unfortunately. Instead with other 30 people or so we were greeted by our guide and taken to a large wooden house where a group of Maori artists presented a show consisting of some traditional dancing, chanting, singing and a facts about their culture. They even invited the public to join them in dances (women) and attempt to do a haka (men). I definitely need to work on sticking out my tongue while rolling my eyes a bit more.
After the show we were taken to another house nearby for a welcome feast - hangi. Traditionally it is cooked on rocks heated by volcanic hot springs - in this case only some dishes were. I'm sorry to say it wasn't impressive. The food was good and very tasty but instead of expected fully traditional cuisine it was a combination of that and regular tourist oriented food - including seafood and pavlova. We did enjoy the meal and sneaked out to see the geyser and hot springs. These were quite spectacular and we even managed to see the geyser shooting water in the setting sun.
Overall we left the experience with mixed feelings. Maori culture seems to be everywhere in names of places, language, symbols of New Zealand. It seems extremely interesting and colourful and we really wanted to learn more about it. We chose this experience because it was recommended but I'm not sure if it delivered what we expected. We had a little chat with our guide during the evening and he explained the reality. It's the tourism industry that works both ways: on one side keeps the traditions alive and needed, on the other side tailors them to what customer wants to pay for. It's sad to watch when one sees pavlova competing with traditional hangi - all cooked by a Chinese chef - and winning.
Our group was the last one and we got to the camping ground in the evening. It was a good day and the next one was about to bring even more excitement.
We were going to try a zorb!