Melbourne welcomed us with sun. At least in the beginning. The storms and side roads of the day before, were gone. Ahead of us was a long weekend in the city that all of our friends described as cool, sophisticated and teaming with culture. We we curious and eager to find out - and to be honest - stay somewhere longer than a day.
But priorities first - we started with finding a quirky coffee and breakfast place nearby - Mr Jekyll. After a flat white and a delicious breakfast, all the road problems from the day before seemed like a distant memory and we set off to discover the feel of the city.
St Kilda was definitely a good choice to stay, with its bohemian atmosphere, quirky bars, famous amusement park and a beach. A little bit like London's Soho by the sea. The beach itself didn't really inspire us and despite several walks, we generally abandoned the idea of swimming in the sea or trying any of the water spots here.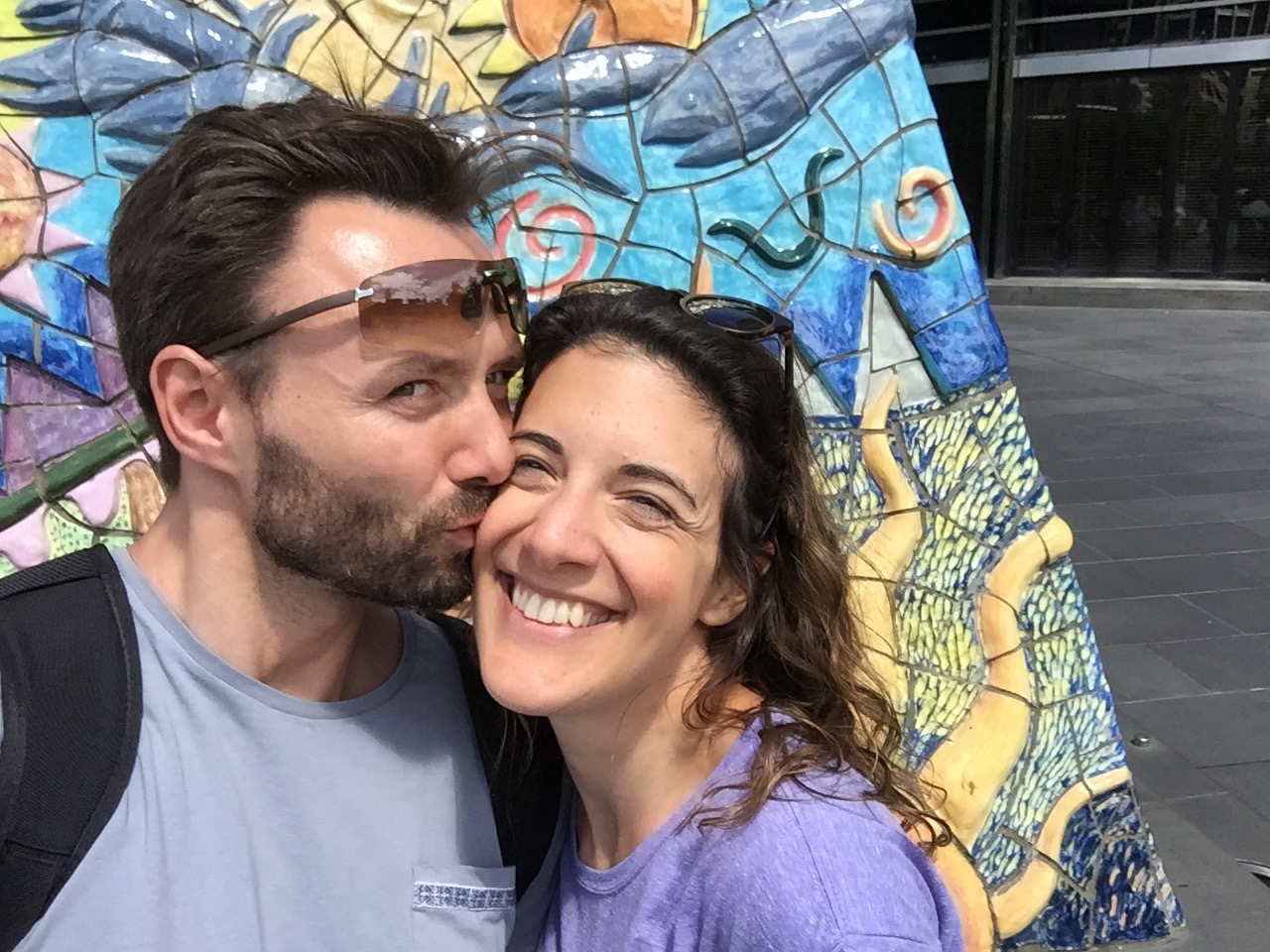 Taking advantage of the tram transport, we ventured further into the city centre. It turned out to be surrounded by a free tram route so we jumped on the vintage tram no 35. After 15 minutes squeezed like a pack of sardines with other tourists, we abandoned it and walked to Federation Square, one of the main spots in the city that also happened to show all of the Australian Open games on a big screen. That looked like a very tempting idea for the evening but for now we walked back into the streets to get to know Melbourne a little bit and get the feel of it.
In comparison to Sydney, Melbourne felt more like a typical large city - with wide streets flanked by tall office buildings, busy traffic and crowds of people passing by. A city you can get lost in - which we tried, discovering on the way Hosier Lane - a short street just off Federation Square - virtually covered in graffiti art from the pavements to the roof. You could see the real pulse of the city here reflected in the street art - the quirkiness, the politics, the vanishing aboriginal roots, the strangely peaceful coexistence of completely art painted street and the nearby office blocks avenues.
We also knew that Melbourne is home to one of the largest Greek communities in Australia so of course we decided to find the Greek District. The district we did find - at least judging by the blue and white painted street signs but it looked like the actual Greeks have moved somewhere else, leaving only the name behind. It was full of Chinese restaurants and shops instead. We found one Greek street food restaurant that served great food and we headed to the Federation Square to sit on the ground and watch some tennis matches with large crowd of other enthusiasts. Fun & games!
On the next day, we still had the car for one more day and we decided to try out the Peninsula Hot Springs - a hot springs spa that we discovered on the Mornington Peninsula, only an hour away.
It turned out to be a great idea. The day was cloudy and it was spitting some rain so sitting in one of the dozen or more pools, with hot springs water between 36 and 40 degrees was absolutely relaxing. The place is designed as a walk that takes you from pool to pool, via hamam and sauna. You can use any pool you want as many times as you want. If hungry, there's a nice cafe serving drinks and food. There's a spa where one can book a massage - like Sabs:) and there's even a reflexology walk where one can experience various levels of feet relaxation (read - PAIN caused by different sizes of pebbles). Amazing!
We could easily spend an entire day there, sitting in the hot springs with cooling rain dropping on our heads. But the car needed to be returned by 3pm so we headed back.
It was sad to say goodbye to our little Toyota - a good reliable car, so easy to drive - that took us all the way here - exactly 2231km. The road trip in Australia was over but there was many more adventures awaiting us. And we still had Melbourne to explore further!
Which we did over the next couple of days on foot and by tram. We walked around the places of familiar names - Southbank, Docklands, Richmond and finally we discovered Brunswick Street - very quirky buzzing street, filled with interesting looking bars, shops and restaurants - a little bit like Camden Town - where at least we found the Melbourne Greeks. When we rolled out of RESTAURANT NAME, we were completely stuffed with amazing Greek food and ouzo, and happily tired with the long day of exploration.
There was one more thing that we needed to do in Melbourne - and that was to watch the final tennis match of the Australian Open between Andrew Murray and Novak Djokovic. Since getting to the Rod Laver Arena (where the games take place) was hardly possible we settled on Federation Square. This time it was completely filled up with tennis fans and we had great time long into the evening, supporting the players and surrounded by a spectacular sunset. Murray did his best but Djokovic was a machine and after over three hour game claimed the title. Well deserved!
Our time in Melbourne was slowly coming to an end and we were getting ready for our East Coast part of Australian adventure. We were looking forward to the sun and the ocean. Our journey needed to end in Brisbane, where some friends of ours were awaiting us with their little dog, but before that we wanted to see the sub tropical area around Port Douglas and snorkel on the Great Barrier Reef.
So we said goodbye to this nice and vibrant city. We liked it but our hearts were in Sydney with its beach life culture, obsession with fitness and healthy food and it's laid back vibe. Melbourne with its quirkiness and buzzing streets was a bit too close to London feel. We loved our time here but the ocean was calling so the next day we caught a Quantas flight and left for Port Douglas.